The American Classic Greenhouse
When it comes to commercial greenhouses, there is no finer design than the American Classic. Choose between elegant curved glass eaves or modern straight edges, with the option of Victorian-style ridge cresting. Whether you choose glass or high strength polycarbonate, your greenhouse design will last through the ages.
The American Classic greenhouse design is a freestanding building available in a range of sizes. With seven possible widths and over a dozen variable lengths, this commercial greenhouse is guaranteed to fit any purpose. Not only does the design look elegant, but it is strong as well. Every greenhouse building code is met and exceeded in our American Classic. Whether you're looking for an enclosed garden in a city back yard, or a full size greenhouse on a private estate, there's no better commercial greenhouse than the American Classic.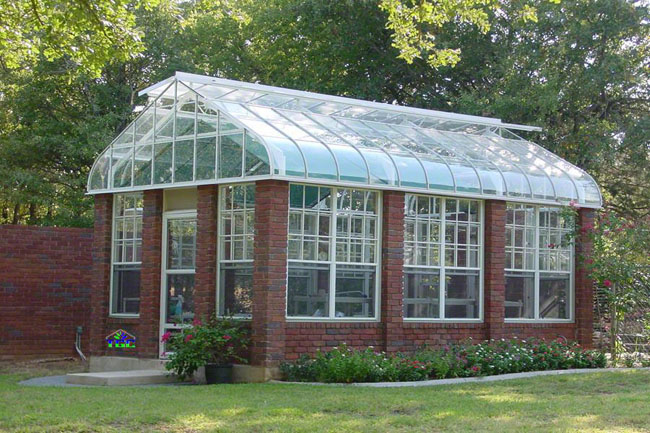 When it comes to the best greenhouse designs, the American Classic takes the cake. Full-length vents are standard in every size, and the glass of the ceiling is specially tempered safety glass. Not only is it strong, but if the worst should happen and it breaks, there are no sharp shards of glass to worry about.
If you have been looking for greenhouses for sale, look no further. The American Classic is designed for any climate in any size, and will please even the most demanding client. Whether you're looking for a freestanding greenhouse or a lean-to, a full size or a hobby scale, our greenhouses for sale are the best available. Our commercial greenhouses fit any budget for any homeowner.
Every one of our American Classic greenhouse designs features a galvanized steel substructure. Suspended from this is high-grade aluminum glazing bars. Every pane of glass is at minimum high strength tempered glass, with insulated polycarbonate available as an option. The roof is lined with adjustable vents, and the entry door is vented aluminum.
No greenhouse design is more elegant. No commercial greenhouse is built stronger. We at the Texas Greenhouse Company pride ourselves on the durability and beauty of our greenhouse designs. We accept nothing but the best in our designs and our materials, so that the greenhouse you buy from us will be the best. We've been at it for over 70 years, and we know our business. The American Classic greenhouse is the best greenhouse design available anywhere. Call us to own a greenhouse today.